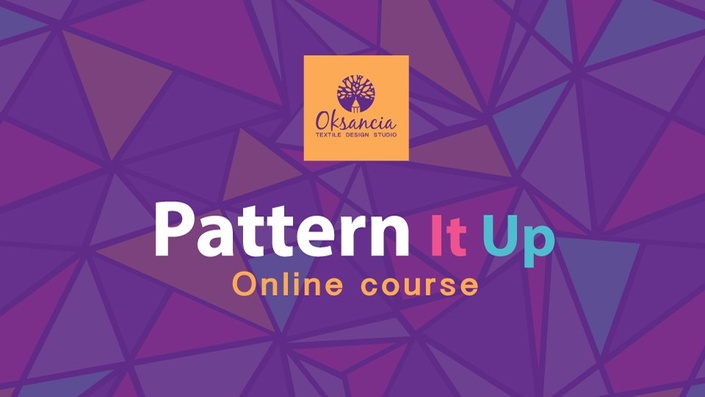 Pattern It Up
Learn step-by-step how to design repeat pattern collections in Adobe Illustrator and start selling them online while building your creative lifestyle business.
Enroll in Course
"Finally I know exactly how to be creative every day and support myself and my family with my art!"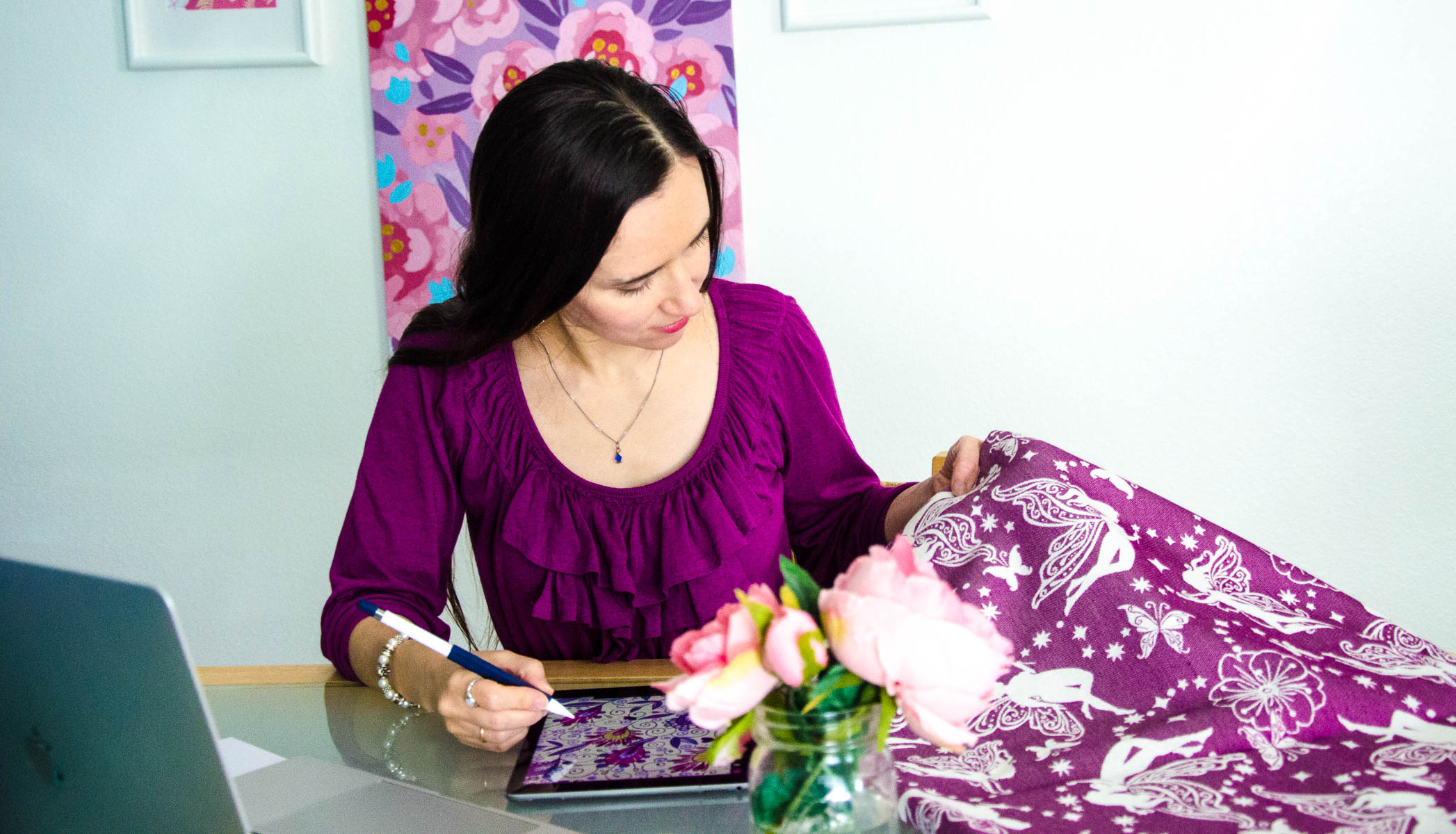 You really want to create a stable, lifestyle business doing what you love - being creative every day!

---
✪ Do you love creating art and designs?
✪ Would you like to spend your time being creative and see it sell every day automatically?

✪ Does it sound great to see your designs on physical products in stores?
✪ Want to finally be confident that designs you are creating will sell and moreover bring stable passive income?
✪ Do you like the idea of working with amazing clients one day and creating your own line of products?
---
If yes, then repeat pattern design is for you and you are in the right place. Welcome! :)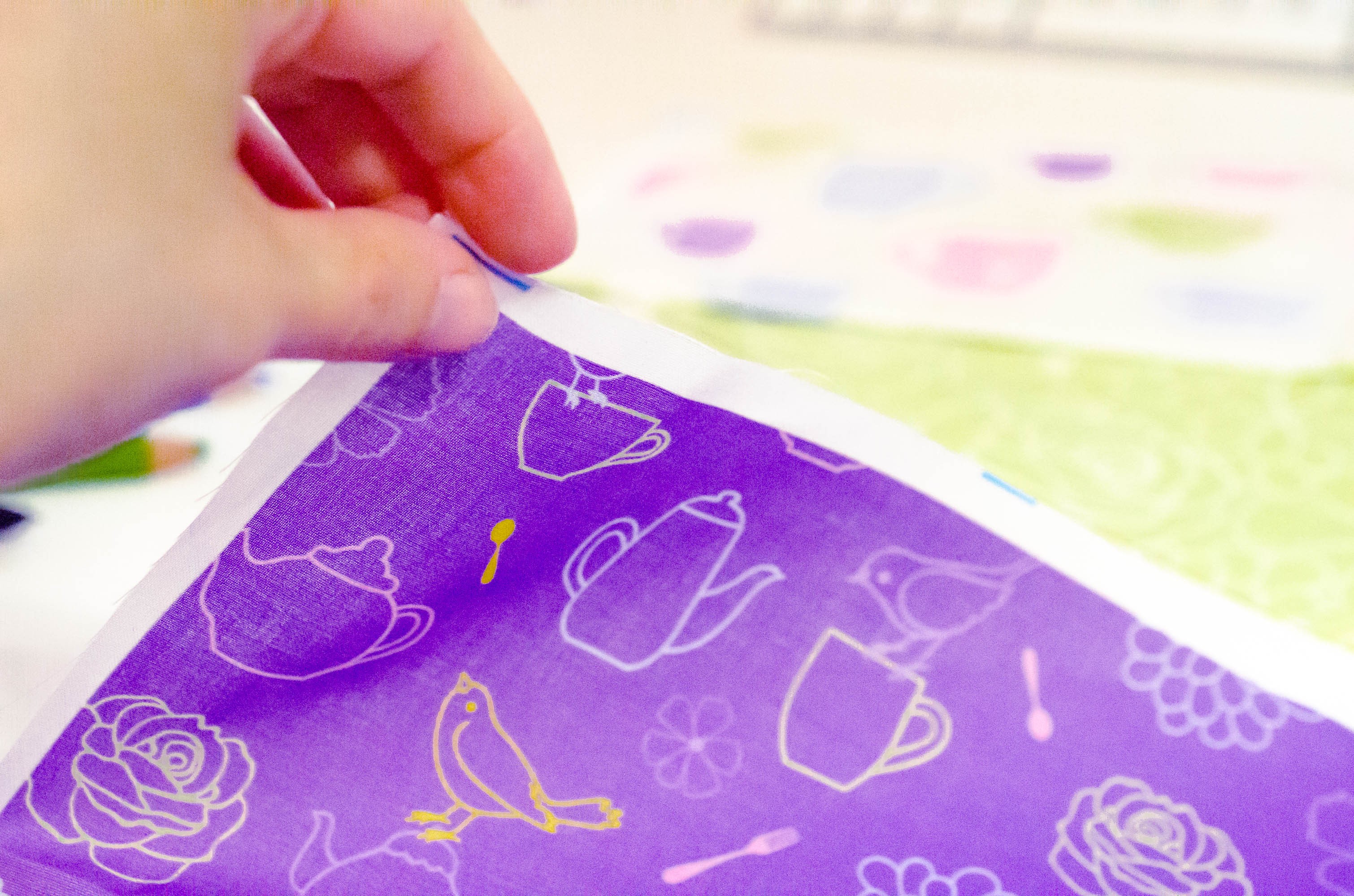 Imagine how good it feels to...
🕒 In a few months (maybe even weeks) - celebrate the first sales of your art
🕒 In 1 year - have stable growing sales and have your own portfolio with gorgeous pattern collection
🕒 In 2 years - collaborate with brands and see your designs on products in the store
🕒 In 5 years - have your own line of lovely products that are all your creations if you want
There is no limit to what you can create!
---
Let's compare to not taking action today...
to doing nothing while going back to wondering how other artists and designers create the amazing lifestyle and dream businesses for themselves.
🕒 In a few months - wish you knew how other artists are doing it.
🕒 In 1 year - promise yourself again to go after your dreams, but quit as you don't know where to start.
🕒 In 2 years - try for a few weeks and give up because you are not sure if it is working.
🕒 In 5 years - continue wishing that one day you will...one day...
My amazing, creative friend, let me share one of the wisest things I learned on my creative journey:
The years will pass no matter what, but in a year from now, you will wish that you had started today.

I'd love to save you time
The great news is that I discovered and came up with a lot of time-saving systems, actions, templates, tools that will cut down your time spent on learning and creating by MONTHS or even years. I took me 12 years to create these systems, but you can learn them, implement and see results in just a few weeks.
Imagine a world where...
___
You create art and designs with joy

You know what kinds of designs sell
You have your system and feel organized
You have daily sales that grow more and more
I saw that I was not alone and that many talented, creative people felt lost about where to start to create income with their art.
That's why I created the Pattern It Up course.
I wanted to give fellow creative designers a way to learn how to make their own, unique vector repeat pattern designs, create pattern collections and start selling them online and licensing their work while building a creative business of their dreams. The tools that save me so much time are all included in this course for you to get started in no time.
Pattern It Up course is a complete, step-by-step system of learning to design repeat pattern collections really quickly while having fun. You'll be selling your designs online and building your unique brand as a textile designer as you go!
Introducing Pattern It Up online course!
This is my unique step-by-step system of creating vector repeat patterns and pattern collections in Adobe Illustrator using custom templates, scripts, and actions that will save you WEEKS of time creating your designs every year, save and prepare patterns the right way to be accepted and sold on online platforms, and start marketing your repeat pattern designs and your new skills as a surface pattern designer to get client projects if you decide.
What you will achieve during this course:
You will create a vector pattern collection consisting of 10 patterns on a topic that sells.

A custom system that lives within any Adobe Illustrator CC version and helps you create and prepare patterns for sale lighting fast.

You own online shops that sell your pattern designs as you sleep.


Your own marketing system to find potential customers for pattern design projects.
In this course we cover everything...
✦ Setting up Adobe Illustrator and selecting the best tools for your budget,
✦ Choosing the topic and creating your first repeat pattern collection using my custom templates, scripts, and tools all ready for you to use and included in this course,
✦ Saving and naming your files so that they work for you and not you work on finding them on your computer over and over,
✦ Getting your files ready for selling online on microstock and print-on-demand websites as well as ready for delivery to your customers when the time comes.
✦ Passing entry exams to microstocks (don't worry, it's easy when you know what to do),
✦ Presenting your designs like a pro.
Why learn from Oksancia over other schools?

While it is useful to learn from multiple approaches, I always invent my own systems and implement them over the years before I create a course and teach them. I teach my own unique systems and create my own unique templates, and action sets, and we even code our own proprietary scripts and software that we give away with our courses. This way you are definitely getting a unique program that is not available anywhere else and is based on my 15+ years of experience as a self-employed artist, designer, and creative online business owner.
Here is what my student Mindy shared about the course: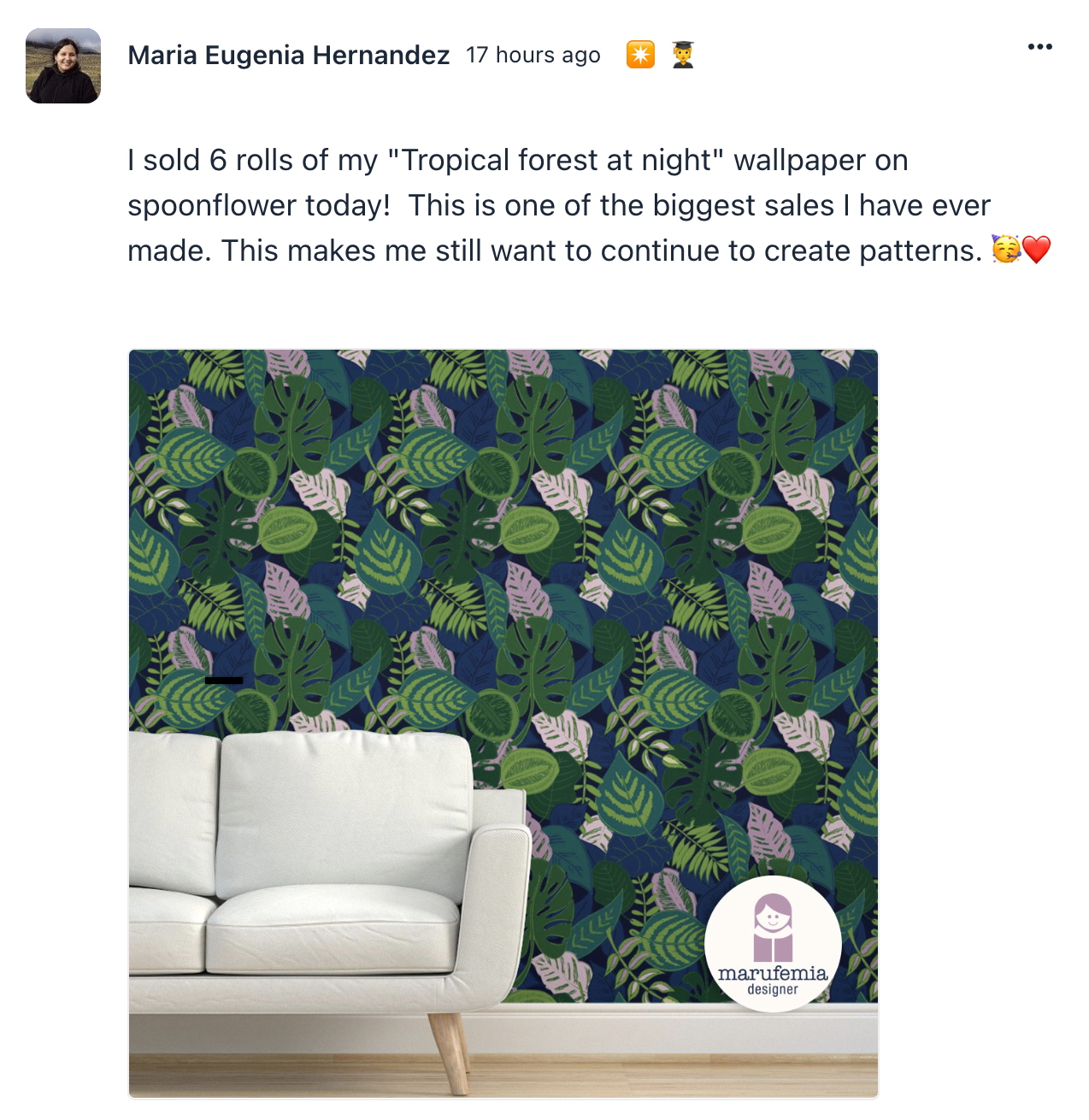 "Pattern It Up course was really useful for me. I am able to work really super fast with this pattern design system. And I know how to plan my work and grow my skills. And how to market my patterns in different ways. The most useful parts were Symbols on Repeat system, actions, creating online shops. Keep teaching us more and more:)"
- Prarthana Moorthy, beta student of Pattern It Up course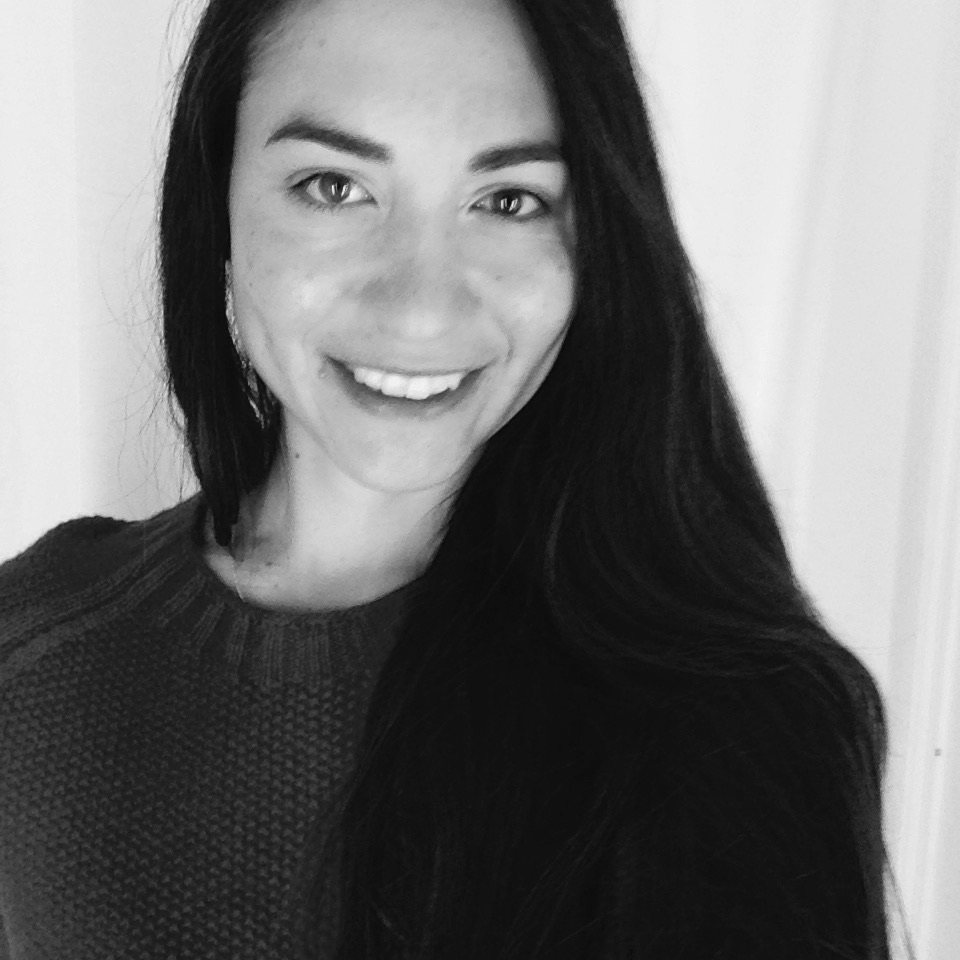 "I am no longer afraid of Adobe Illustrator. In fact, I look forward to the time I set aside to work with the program. Also, I really enjoy Oksancia's voice. You just hear the enthusiasm and encouragement coming out of it."
- Erica Diazoni, beta student of Pattern It Up course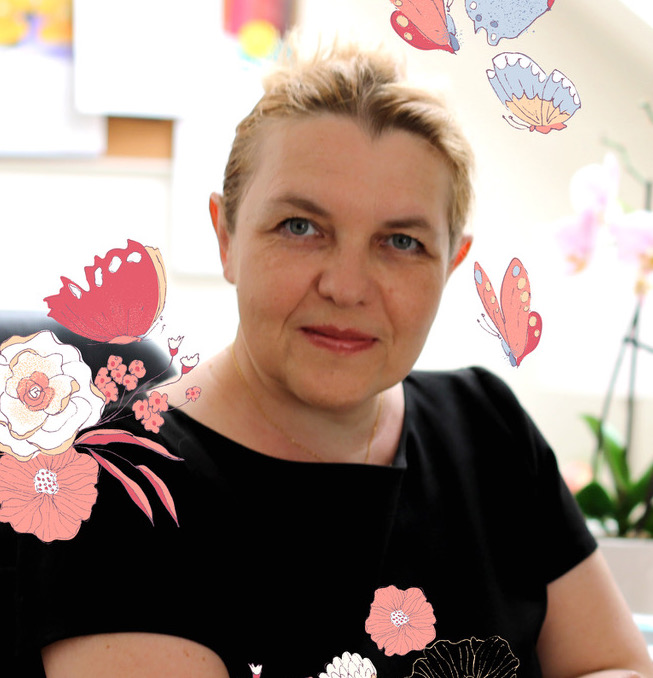 "I watched so many courses of pattern design and illustrator skills, they were very good and helpful, but Oksana made the first course for pattern designers who want to grow their business quickly and successfully. I like very much her vision and tips and tricks in illustrator. Work with these directions is simple and so efficient."
- Beata Pijanowska, www.webvilla.pl, beta student of Pattern It Up course
Can I take this course on my own time? - YES! You can + you have an option to share your progress in our private Facebook Group if you want!
What you will receive inside of this course: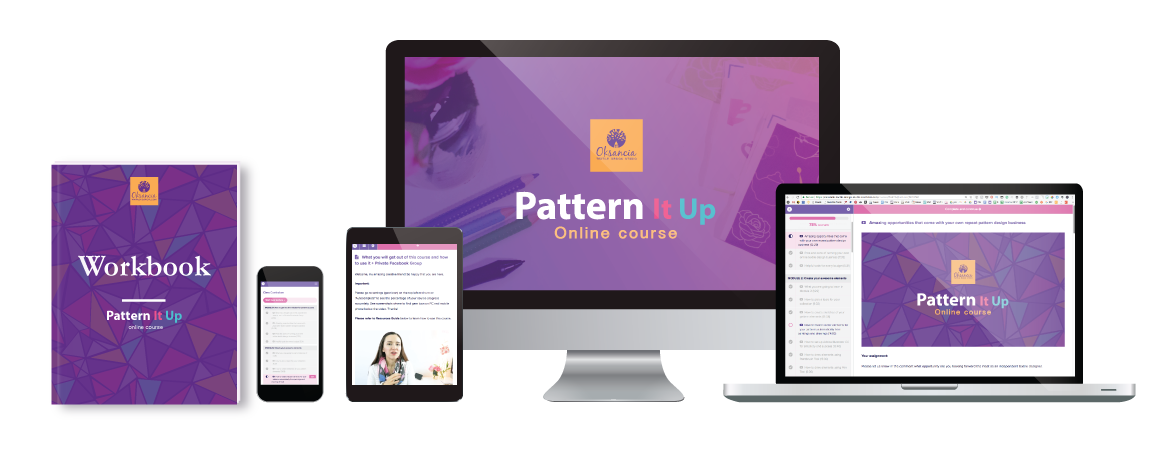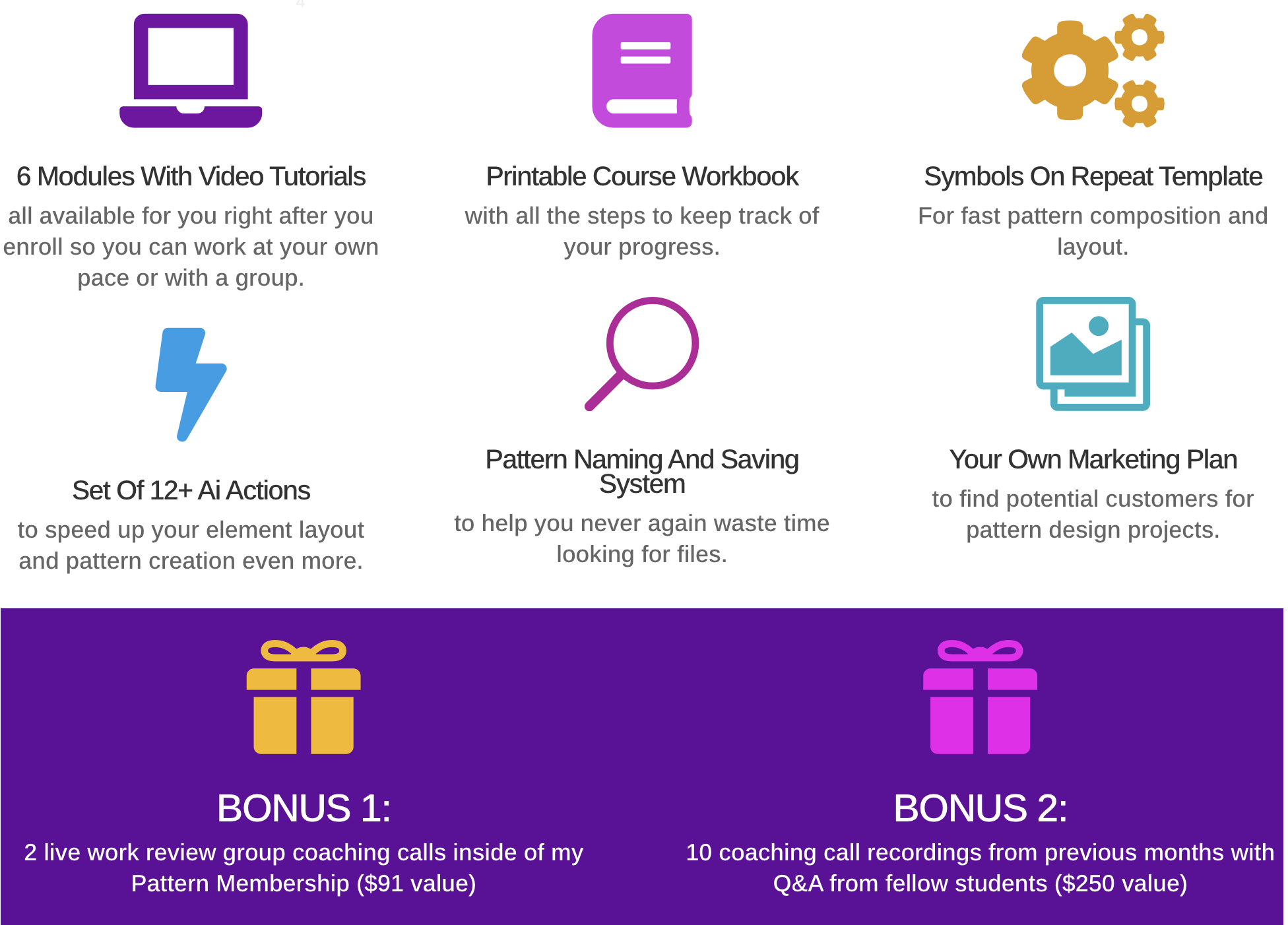 More than 820 students went through this course already
and were so kind as to share their experiences and successes as well as help me make this course great!
Here is Pattern It Up a beta student, Doreen, who passed her Shutterstock exam and became a contributor on her first try! Yay! :)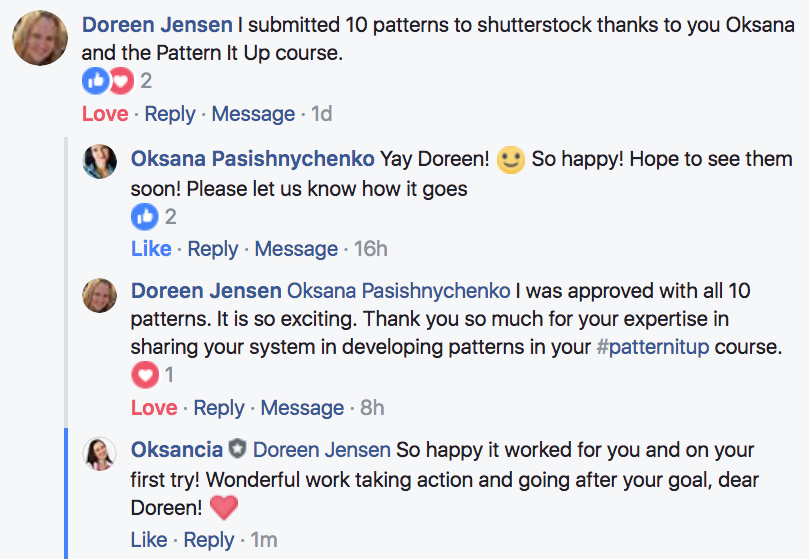 ---
Here is a sweet pattern collection by my talented Pattern It Up student Mindy Hunter. She started the course and in only 3 weeks she shared this collection with us! Amazing! <3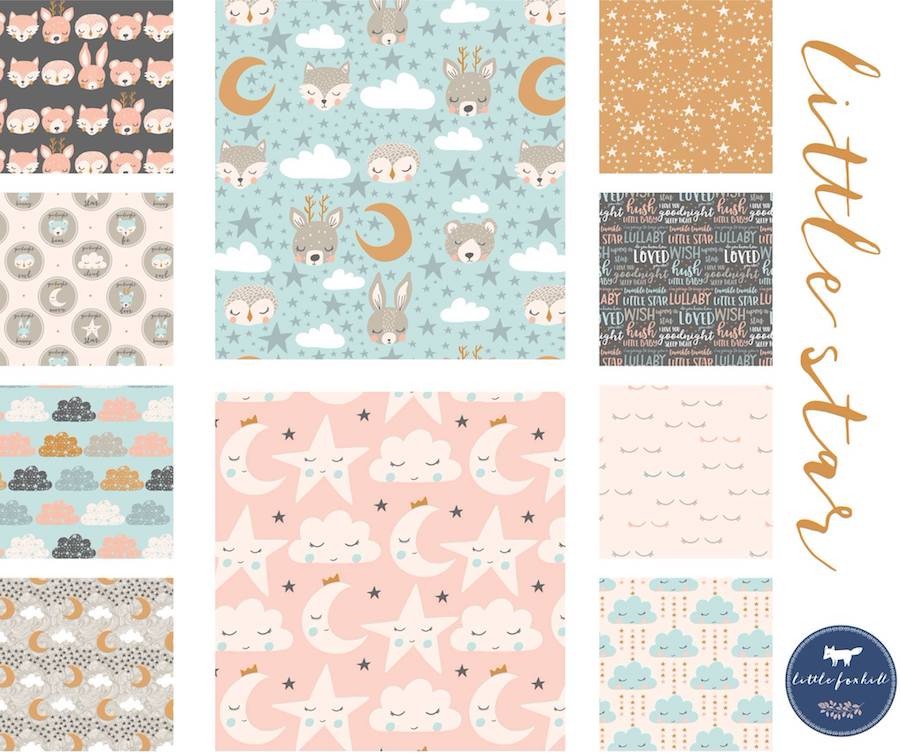 ---
And here is a lovely gardening pattern collection by my talented student Elfi Yang. Love how she organized her collection ready for presentation to potential customers and licensees: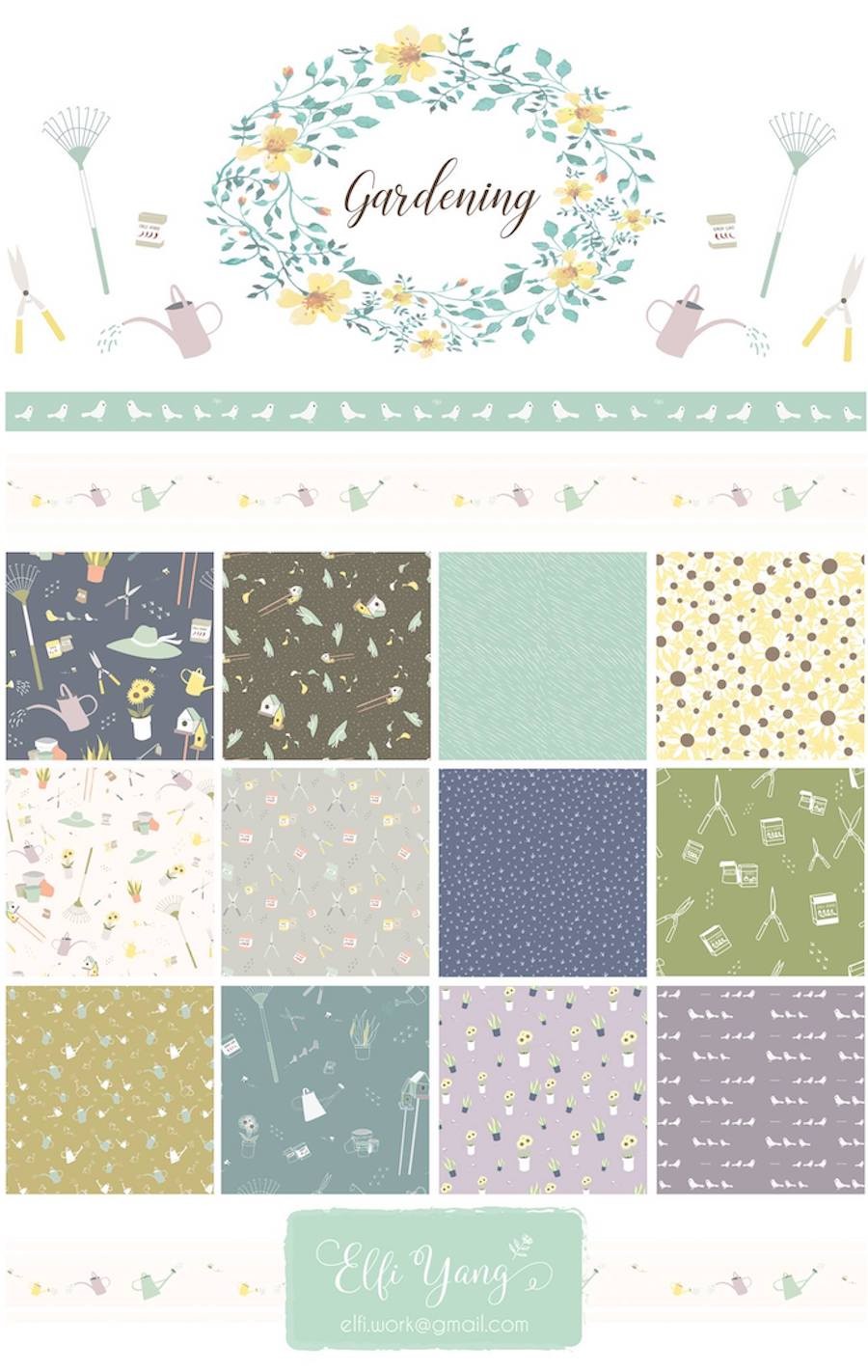 And here are more of my amazing students sharing their feedback about the course: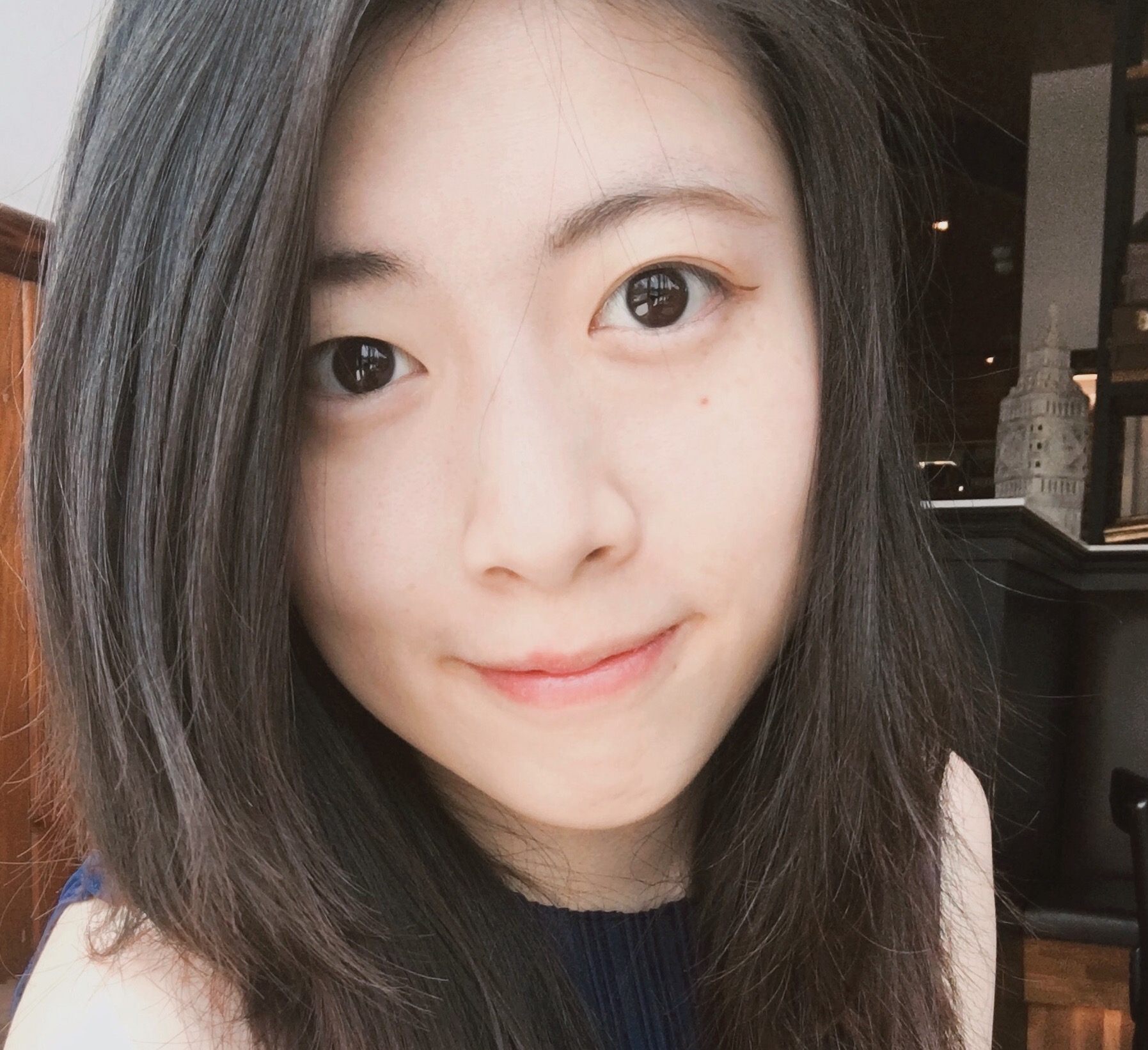 "Pattern It Up course covers it all! From cumulating creative idea to presenting, and the bonus Powerful Pattern Prompts mini course really help! And it is suitable for a learner which has zero backgrounds, all explained very clear"
- Elfi Yang , Co-Founder, Impressive Company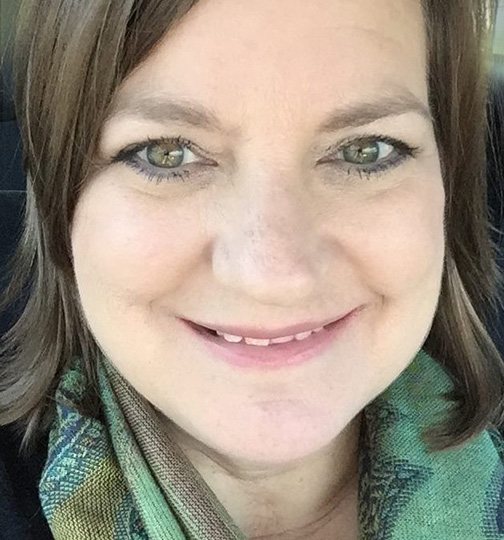 "When I saw your video about the Pattern It Up course and began using your Symbols on Repeat system, I knew that this was the missing piece that I had needed to get my patterns to the next level. If someone is wondering about purchasing the course, I would tell them that it is worth so much more beyond the price of the course. The templates and set of actions that come with the Symbols on Repeat
template have really changed my way of working for the better. I will never go back to the old way now that I have these valuable tools and amazing course knowledge!"
- Lori Krout, https://www.lorikroutdesign.com, owner of Lori Krout Design, beta student of Pattern It Up course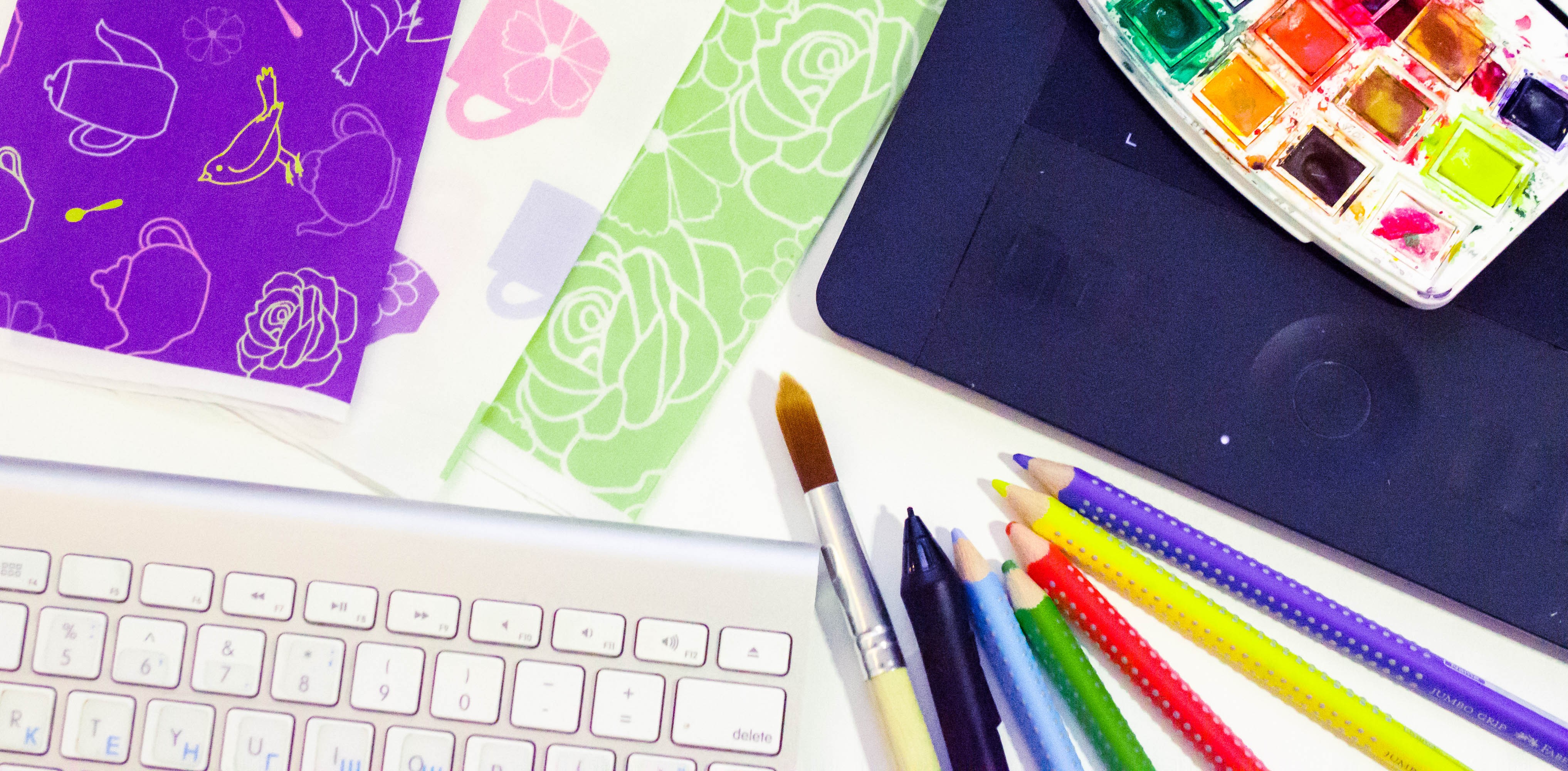 You might be thinking, will it work for YOU?
If you are willing to put an effort into learning the system and take time implementing it, you are very likely to achieve success. Just please keep in mind, this is NOT a get-rich-quick scheme! This is a creative business that brings you lots of joy and satisfaction as well as income, but you need to work on it as on any good thing in your life.

+ I give you a generous 30-day money back guarantee, so you can try it and see for yourself with no risk for you.
But, I don't have time!
My course is designed in a way that you can take it at your own pace. You can watch one video per week and implement 30 minutes per day. You will have lifetime access to this course so that you can work at your own schedule.
What if I am not a designer yet?
Not all textile designers can draw :) You can create beautiful abstract and geometric designs with no drawing skills involved. In my class, I teach how to draw your pattern elements. I teach you step-by-step basic skills first and slowly take you to more advanced skills. If you can't draw, I give you recommendations on how to use basic shapes and elements such as circles and stars while you get comfortable with the system. Later you can work on your artistic skills if you want.
Can I learn this somewhere else? Can I take a local class?
This is my own unique system that I didn't learn anywhere else. I created it myself with the help of my software-developer husband, so you can't find it anywhere else.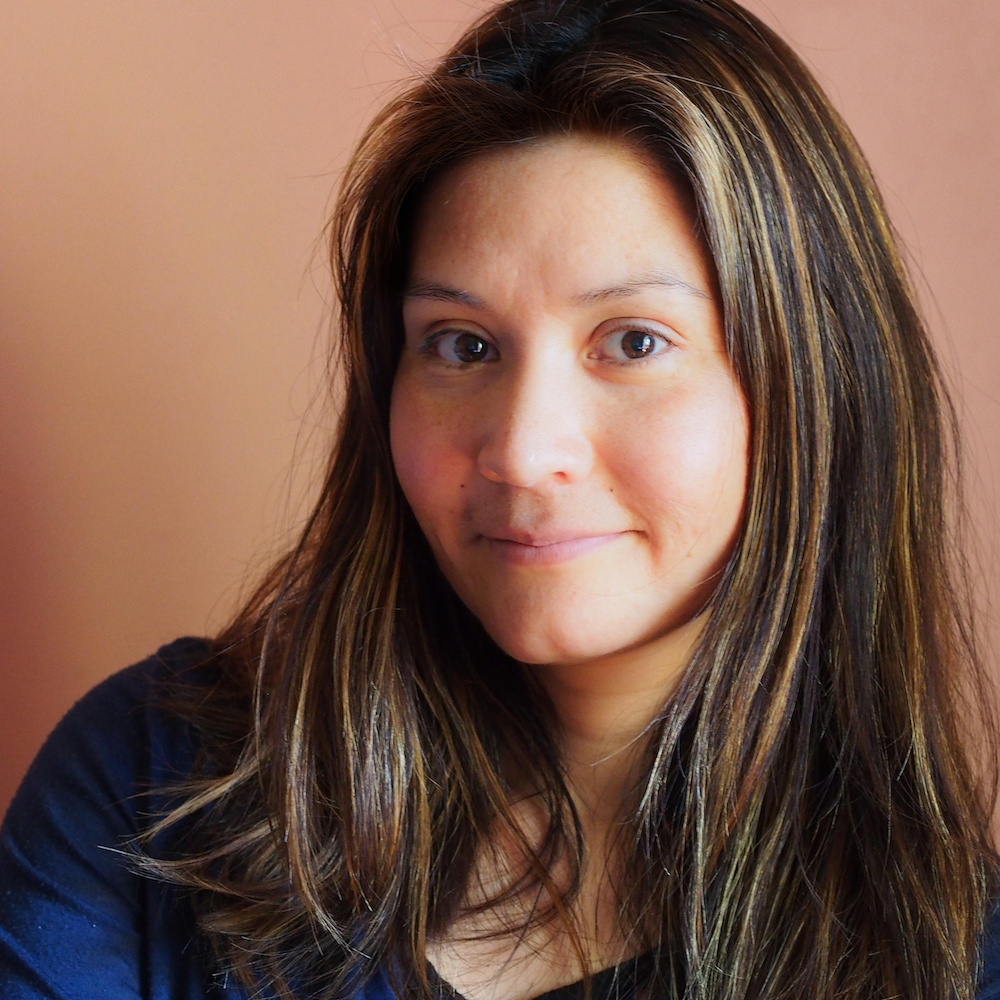 "I think it is an excellent course as I've learned much. The most helpful part of the course for me was the automation side of making patterns that frees up my time to make more patterns. I also liked the way Pattern It Up shows the way to organize my files."
- Jimena Garcia, beta student of Pattern It Up course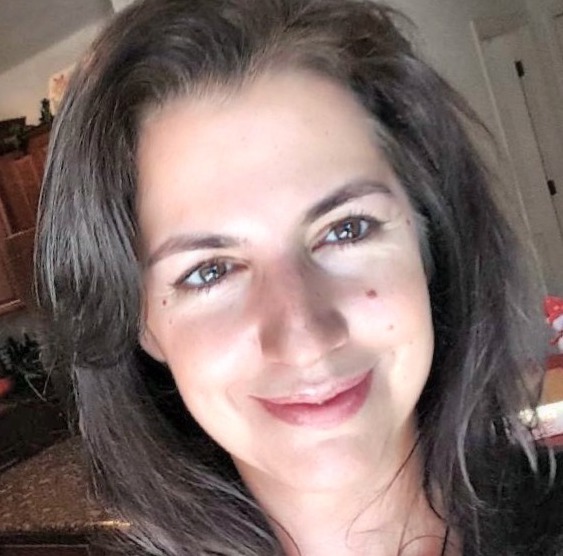 "I'd been learning bits and pieces of pattern design for a few months when I found your Pattern It Up course. I was hoping to find an all-in-one resource to be able to put together my disjointed *very* beginner pattern making skills - but what I found was so much MORE. You're not just teaching how to make a pattern, but how to put together a comprehensive and practical system for creating collections and selling what you make. I've found the lessons to be so full of useful information that I'm watching the videos multiple times. I find I learn something new every time I go through a lesson again:)
Really, I can't thank you enough for generously sharing your knowledge and experience in this course! "
- Kathy Hunnicutt, beta student of Pattern It Up course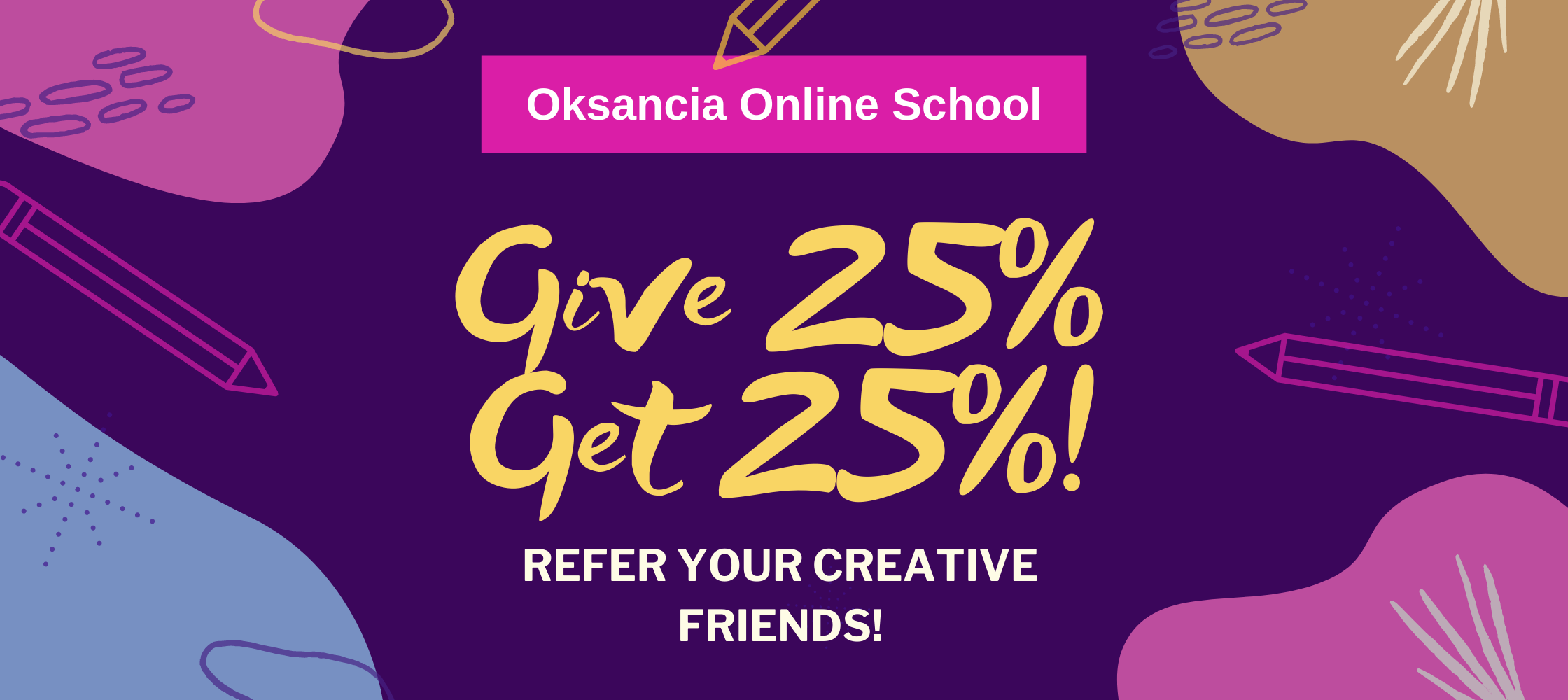 Once you enroll in the course and become my student you will be able to refer your friends to it with a unique link and give a 25% discount on any of my courses. Once they enroll, you will also get 25% off your next enrollment.
Your Instructor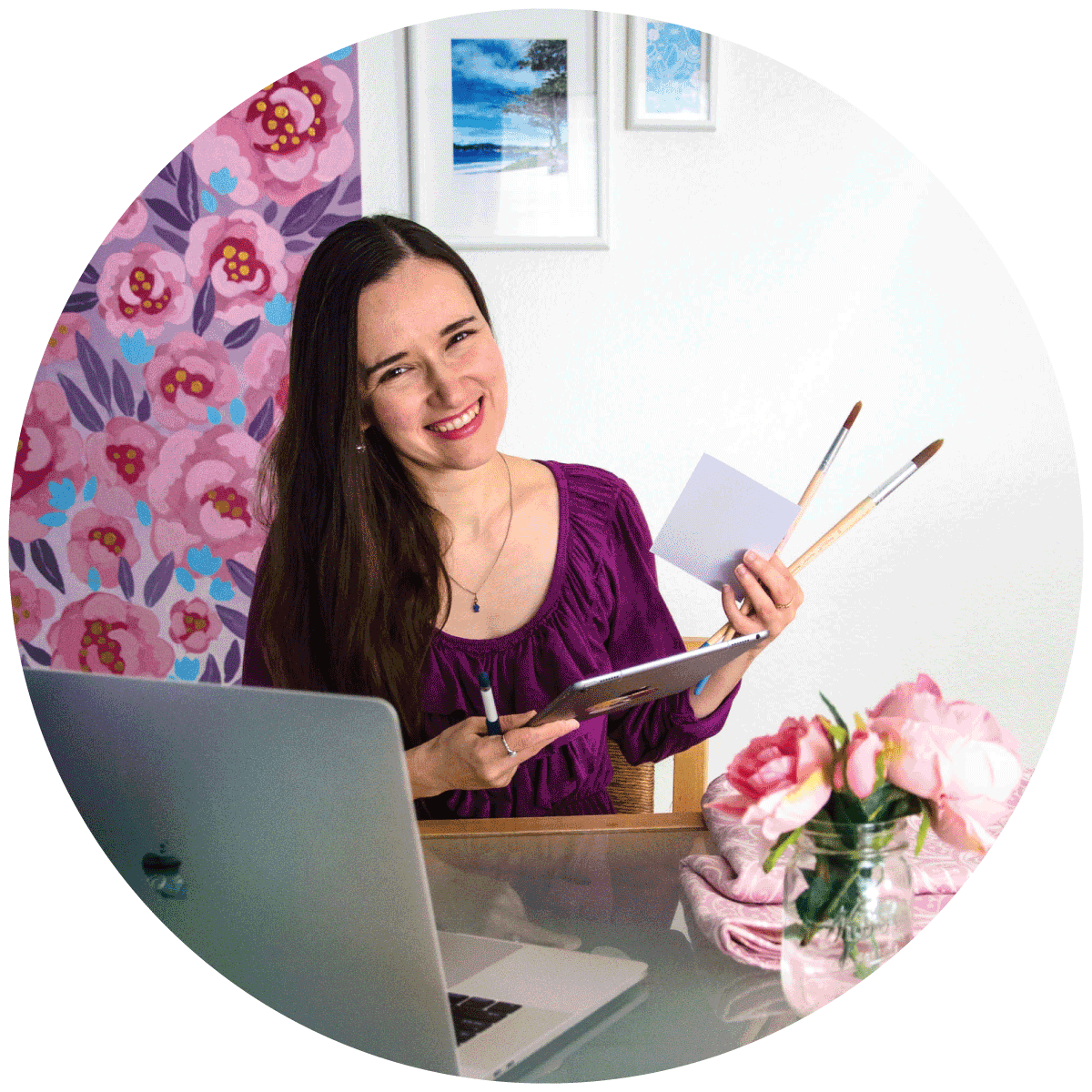 Oksana is a Teachable award-winning educator and an owner and the designer of Oksancia Textile Design Studio and School. Her passion is to help creative people express their vision and connect with their customers by creating unique and beautiful repeat patterns and collections for their products.
Oksancia has a Master of Arts degree from RUG university, the Netherlands, specializing in children's books. She illustrated 2 published children's books and the products with her designs were for sale at Best Buy, Barnes and Noble, Amazon, CVS pharmacy and many more. She created a portfolio of more than 10,000 vector illustrations and designs and collaborated on more than 100 client custom design projects. Her clients include Cari Slings, Princess Awesome, Origany, Chimparoo, Floral Simplicity, and others.

She is a happy wife of an amazing man and a mother of a sweet little girl. Together we love to make arts and crafts, read funny books and travel while collecting creative inspiration and adventures :)
If the only thing this course did was...
1. Get you started as a creative entrepreneur
In a few years, you would be able to support yourself and your family while spending time creating your art.
2. Gave you peace of mind
In just a few weeks you would be able to work with a clear system while letting your creativity blossom.
3. Gave you feedback and support that you need + a community of fellow designers
You will enjoy the feeling of not being in it alone anymore and always have a place to ask questions and get answers.
What would it be worth in 1 year, 5 years or 10 years to be a successful and independent artist or designer?
Frequently Asked Questions
How long is the course?
The course is 6 weeks in total + bonus videos. Even though there are "weeks", you can study at your own pace if you prefer.
When does the course start and finish?
You can start learning immediately after purchase. All materials in this course will be available to you right away and you can work on the lessons on your own schedule. If you want, you can join our private Facebook group for students only that will start working and sharing progress together. Group work is not compulsory. The course takes 6 weeks to finish + you will have 2 live video group work review sessions after that which are also not compulsory. You can choose how to participate to learn the best! :)
Can I learn at my own pace?
Totally! You can start and finish when you want and take breaks when you want. This is BOTH a self-guided course which you can take yourself AND a guided weekly group work in the Facebook group for students. Some students choose one way of learning, others choose another.
Which tools do I need to take part in this course?
You will need: 1) Adobe Illustrator CC software. Adobe CS4 and up works well, too, but you will have to make one minor modification in 1 lesson, please contact me and I will help you with it if you work with Ai CS4 and other CS versions. 2) PC or Mac computer. 3) Computer Mouse 4) Digital tablet (for example Wacom Intuos) - not necessary, but useful to have.
How long do I have access to the course?
How does lifetime access sound? After enrolling, you have unlimited access to this course for as long as you like - across any and all devices you own as long as our school exists.
Which level of artistic skills (drawing, painting, design) do I need to succeed in this course?
You can succeed in this course with very basic skills of drawing very simple elements or even geometric shapes, but if you can draw beautiful and more complex elements, it really helps.
Which level of Adobe Illustrator knowledge do I need to have to succeed in this course?
Beginner level of understanding of basic tools in Adobe Illustrator is needed (copy, paste, create new documents, save file versions, basic drawing and using shape tool). I teach you a lot of advanced techniques in this course, please study some basic skills in Adobe Illustrator to make this course work for you faster.
Do I HAVE TO work in a group to succeed in this course?
No! You can totally work on your own schedule and time. The group members and I are always there if you need us. We have a lot of supportive conversations and fun there, but we totally understand that everyone learns differently.
What if I am unhappy with the course?
We would never want you to be unhappy! If you are unsatisfied with your purchase, contact us in the first 30 days and we will give you a full refund.
Can I use the methods taught in this course on my iPad version of Adobe Illustrator CC?
While a lot of design, drawing, and composition lessons can be applied to an iPad version of the Adobe Illustrator CC software, our scripts, action packs, and templates have been developed for the PC and Mac versions on Adobe Illustrator CC. Also, the iPad version, for now, is not as powerful at automation that saves you lots of time and effort over time in your design process, so I do not recommend it at the moment.
You can try this course for 30 days and if it's not what you have hoped for, you can request a full refund for 30 days!