Build your online creative business doing what you love every day.
This is the place for all pattern lovers to learn about designing repeat pattern designs with Adobe Illustrator software and setting up a creative lifestyle textile design business that helps you earn an income doing what you love. This is an online school by Oksancia Textile Design Studio created by Oksana Pasishnychenko - a self-employed textile designer with 10+ years of experience running a successful and rewarding creative business online.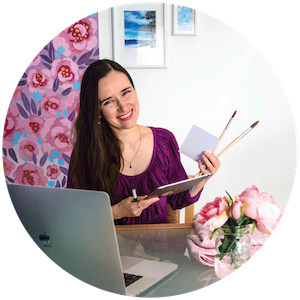 About Oksancia:
Hi! I am an owner and the designer of Oksancia Textile Design Studio and School. My passion is to help creative people express their vision and connect with their customers by creating unique and beautiful repeat patterns and collections for their products.
So honored to have over 1500 students across all of my online courses and that this school has received a 2019 Teachable award.
I illustrated 2 published children's books and the products with my designs were for sale at Best Buy, Barnes and Noble, Amazon, CVS pharmacy.
My design portfolio consists of more than 10,000 vector illustrations and pattern designs and I collaborated on more than 100 client custom design projects.
Also, I am a happy wife of an amazing man and a mother of a sweet little girl. Together we love to make arts and crafts, read funny books and travel while collecting creative inspiration and adventures.
Grow, love, and create!
Oksancia